When learning about how to detox from cocaine safely, it is essential to rely only on authentic information. Detox is the most crucial step in managing cocaine addiction, as if not carried out correctly, the chances of relapse are high.  
This blog will give you accurate and research-backed information about what cocaine is, how it affects our bodies, and how detox should be done in a well-monitored and medically supervised environment. To see how a professional detox program can help you or your loved one, check out our cocaine detox program or call us at 844.445.2563 and start your journey toward recovery now!             
Chapter 1: Understanding Cocaine Addiction
What Is Cocaine?
We all know that cocaine is a street drug. But did you know NIH (National Institute of Drug Abuse) has classified it as a stimulant? Stimulants are a class of drugs that increase the activity of the brain. This is why you feel more alert and energized after the first use. It produces a very-short lived feeling of relaxation, pleasure, and alertness, urging the person to use it again. 
Cocaine is a highly addictive substance. It has a very short half-life, meaning the false feeling of joy and relaxation you experience fades instantly. Our body becomes dependent on it and craves it even more. As a result, it leads to more frequent use of drugs, and you can easily get addicted before you even begin to realize it.
In short, you may think of cocaine addiction as a trap. It seems unharmful initially, but the more you use it, the more your body will depend on it. But, timely intervention can treat cocaine abuse and cocaine addiction. With ChoicePoint's cocaine detox program, you choose to break free of any traps and lead an addiction-free life.
What Happens to Your Body After Using Cocaine?
After initial use, you may feel more relaxed, euphoric, and alert. But as said before, it is a trap. Cocaine produces false feelings of pleasure by stimulating the release of dopamine. Dopamine is a neurotransmitter that manages happy emotions and acts as the brain's reward system. 
A large number of dopamine acts as positive reinforcement and motivates you to repeat the same behavior. Hence, increasing the body's dependence on cocaine. According to medical experts, most people can not give up on cocaine addiction because they don't fully understand how to detox from cocaine safely. Cocaine has various side effects on the body. These may be short-lived or long-term. 
Short-Term Effects of Using Cocaine
So after initial use, you may feel a sense of euphoria and pleasure, but it is essential to know that these effects are short-lived. Soon the sides effects of first-time use may begin to kick in:
Dizziness 

Trouble in breathing

Muscle spasm

Low blood pressure

Increased heart rate 

Irritability and hyperactivity
Long-Term Effects of Using Cocaine
The rule that excess of everything is terrible also holds here. Cocaine abuse has disastrous long-term effects. It affects your cognitive behavior which leads to poor decision-making and loss of awareness of the surroundings. This is not all; cocaine also affects normal body functioning and ultimately leads to organ damage. Some long-term effects include:
Heart attack

Seizures

Acute respiratory distress

Ulcers and inflammation of the large intestine

Kidney and liver damage
According to the CDC, Cocaine overdose is responsible for every 1 in 5 drug-related deaths. Due to the high tolerance levels of cocaine, the chances of overdosing are always high, ultimately leading to death.
You think that you can overdose on cocaine and you are on the verge of developing an addiction; you can get yourself evaluated by taking ChoicePoint's free Addiction evaluation quiz. 
How to Detox From Cocaine
Detoxing from cocaine can be a complex process because your body becomes so dependent on it that when you stop using Cocaine, it makes you crave the drug even more. Unfortunately, this may lead to a quick relapse.
For effective cocaine detox or coke detox, it is essential to stick to the facts. We advise that you don't just rely on the information on social media or the experience of a friend. The success of the detox depends on the treatment plan and the support of medical specialists. Reaching out for help is a huge step, and with the correct medical guidance, you will be much safer.
ChoicePoint: Addiction Specialist Near You
Addiction is a torturous ordeal; without help and support, it often leaves one thinking of recovery as a hopeless endeavor. The help that you or a loved one requires is what ChoicePoint doctors have been working on for years. Our doctors have the experience and expertise to offer you long-term treatment plans so you can rebuild an addiction-free life. If you are still looking for any addiction specialist near me? You can trust our specialists at ChoicePoint to provide a safe environment full of compassion and motivation to help you detox from cocaine safely.
Don't wait any further and call us today at 844.445.2563. You can also visit our in-person treatment center in Fair Lawn, Bergen County, New Jersey. 
Cocaine Withdrawal Symptoms
We say that the detoxification process is complicated because of the withdrawal symptoms of cocaine. During addiction, your body becomes so dependent on cocaine that it can not function without it. When you stop using it, you may experience some physical and mental discomfort that can be early signs and symptoms of cocaine withdrawal. This is where detox comes in to help you manage withdrawal symptoms to adopt a healthy lifestyle. 
The nature of addiction varies from person to person, depending on how much cocaine they consume and how long they have been consuming it. In short, the intensity of cocaine withdrawal depends on the severity of the addiction. The cocaine withdrawal symptoms are usually most intense immediately after the last usage. You may feel an intense urge to use it again during this time. For some people, these symptoms become unbearable, so they start using drugs again.
Looking for an answer to how long does it take to detox from cocaine? But as they say, "What doesn't kill you makes you stronger," commit to detox at ChoicePoint, and you will begin to feel better within a few days. These few days will build a stronger foundation for you to enjoy lifelong sobriety. Feel welcome to visit our state-of-the-art outpatient detox center in Fairlawn, Bergen County, New Jersey.
How Long Does Cocaine Withdrawal Last?
A cocaine withdrawal can take up to 10 weeks, depending on the frequency of usage and severity of the addiction. There are three basic cocaine withdrawal stages.
a) First Stage
In the first stage, patients suffer from intense physical and psychological issues. These include cravings, physical pains, mood swings, and often relapses. The cocaine symptoms are very severe in this phase.
b) Second Stage
In the second stage, the intensity of symptoms diminishes to a certain degree. Nonetheless, the patient still feels cravings for cocaine and suffers from mood swings.
c) Third Stage
The last stage is reached after ten weeks or more. The symptoms disappear by this time. However, you may still experience cravings based on triggers.
How Long Does Cocaine Stay in the Body?
Cocaine is a fast-acting drug. After you ingest it, it is digested by the body and broken down into metabolites. These metabolites may appear in various tests such as saliva, blood, urine, and hair tests.
The duration of cocaine metabolites depends on the frequency of usage, physical activity weight, and dosage used. But, typically, cocaine can be detected in tests for up to:
Blood Test: Up to 2 days

Saliva test: Approximately up to 2 days

Urine test: approximately three days

Hair test: even up to a year
Chapter 2: Medical Detox Process
What Is a Drug Detox?
A detox lacking constant medical counsel and feedback can leave withdrawal symptoms of cocaine unattended, putting a person in relapse. Thus detox programs should only be managed by experienced doctors.
Think of it this way, how many times have you tried to quit cocaine, but somehow you still end up using it? A major reason is skipping medical detox. The chances of relapse increase significantly without complete cocaine cleanse. Therefore, to maximize recovery chances, medical practitioners consider detox a very important step. The process is carried out in a controlled environment. Therefore, accountability and recovery monitoring are crucial during a detox. At ChoicePoint's detox center in New Jersey, our medical professionals monitor step-by-step progress to make this process easier and more effective for you. 
What Happens During a Cocaine Detox? 
According to medical experts, a straightforward answer to how to detox from cocaine would be opting for medical detox. So, what is medical detox? Medical detox is a supervised detox program. During this, doctors and healthcare providers will monitor your progress. It may also involve using medications to help your body function without cocaine.
Here are some of the steps involved in a safe, medically supervised detox:
Begin Detox With a Simple Registration Process
ChoicePoint offers an inclusive outpatient detox addiction treatment program that provides an alternative to an inpatient detox program's rigid SOPs (standard of procedure). With flexible schedules and step-by-step medical assistance, detox becomes a passion, not a burden.
You can trust us when we say that the registration process of ChoicePoint is one of the easiest processes. Not only because it's just a click away but because of our compassionate team, who will care for you at every step. Simply fill out this form, or call us at 844.445.2563. One can also visit our outpatient detox center in NJ. 
When you sign up for our detox program, our team might ask about the following: 
Basic information and means of identification

Insurance coverage

History of cocaine abuse

Recent use and frequency of use 
All your information provided will be kept confidential, so you don't have to worry about withholding any information.
Concrete Diagnosis for Further Treatments
Cocaine addiction affects both physical and mental health. A proper diagnosis by an experienced professional will save you much time and money. An accurate diagnosis will help you know the following:
If you are suffering from cocaine addiction

The severity of addiction

Effective addiction treatment strategy 

Duration of cocaine detox 
For efficient diagnosis, it is essential to develop an effective treatment program. Detox plans developed at home can be left unaddressed and can halt the recovery process, worsening one's addiction.
Medication-Assisted Treatment for Effective Detox 
A medication-assisted treatment or MAT program uses medications for safe and effective detox. Most people shy away from medications. They think that medications are harmful to the body. And yes, that may be true. But always remember that only unsupervised medications can be harmful. MAT Clinic uses safe and effective medications that are FDA-approved. These medications will help to reduce cocaine cravings and manage cocaine withdrawal symptoms.
ChoicePoint has the best MAT program. Some of our medications that will help you fast-track coke cleanse are:
Buprenorphine

Subutex

Suboxone

Naltrexone
If you want to learn more about some of the best medications, check out the top 5 medications prescribed at the ChoicePoint MAT clinic, and for online suboxone prescriptions, call us at 844.445.2563.
Around-the-Clock Support During Therapy 
Is therapy really important during a detox? Yes, medication alone can not treat addiction because it can not treat the cause of addiction. Therapy will help you heal from within, so you never have to resort back to cocaine for short-time joy. As they say, 'Healing doesn't mean the damage never existed. It means the damage no longer controls our lives.
At ChoicePoint, all of our therapy sessions can be availed online through telehealth addiction treatment:
Dual Diagnosis Treatment Center in NJ 
Research says that cocaine abuse can cause mental health problems that include but are not limited to hallucinations, suicidal thoughts, and a destructive mindset. ChoicePoint, the cutting-edge dual diagnosis treatment center in NJ, is well-equipped with clinical psychologists and addiction doctors to help you overcome the physical and psychological effects of cocaine addiction. 
All our cocaine addiction treatment programs, including dual diagnosis, are available online to avail yourself of medication prescriptions and therapy sessions with our specialists in the comfort of your home.
Want to learn more? Feel welcome to reach out to us at 844.445.2563.
Is Medical Detox Effective? 
Medical detox is a scientifically approved treatment. It is formulated according to recent research to bring you the best and most effective treatment. Some of the benefits include:
An easy and comfortable route toward recovery

Lesser chances of relapse 

Increased patient commitment toward recovery

Reduced dependence on cocaine

The sustainable and long-term recovery
How Long Does It Take to Detox From Cocaine?
This is the most frequently asked question, and we wish there was an exact answer. But, the duration of detox is dependent on several factors. Approximately it may last between 7-9 days. Depending on the patient's requirements, it may also extend up to two weeks.
At ChoicePoint, the detox program is led by top medical experts. Our innovative yet effective detox plan can be completed by visiting our detox clinic during the daytime and returning home after you get detox sessions. We provide therapy services, medication-assisted treatment, and detox through telehealth services. 
Chapter 3: Detox Process; How to Detox From Cocaine at Home
Let's be very clear from the onset – Cocaine detox at home is not possible. The Internet is flooded with how to detox from cocaine at home, which can be an interesting option. But this claim is misleading for a number of causes.

Firstly, managing the cocaine withdrawal symptoms during detox requires certain medication to manage cravings, as the body can develop high tolerance levels against cocaine. 
Secondly, each detox program is patient-specific, considering his history of substance abuse, and cannot be managed the same way.
That said, detoxing from cocaine at home is not an option, as chances of relapses and overdose are higher. Cocaine detox can be effective only if supervised by a medical professional. Thus it is important to understand that detox is a step-by-step process, and going through each stage is crucial for a successful detox.
Do not be stressed by the prospect of detox being a tedious venture and concerning how to detox from cocaine safely! To know how long rehab is, read these five things about rehab or call us at 844.445.2563.
Know the Severity of Your Addiction 
You can not set up detox goals without determining your addiction level. A quick and reliable way is to avail an online addiction assessment. Take a few minutes to take our free addiction assessment quiz to know about the severity of the addiction.
Please note this assessment is an initial self-screening, and it is not meant to be a medical assessment or clinical diagnosis of addiction. For proper diagnosis and treatment, schedule an appointment with ChoicePoint. 
Outpatient Detox in Fair Lawn, NJ
Outpatient treatment is also a feasible option for at-home detox. You can return home after attending a detox session at the center during outpatient treatment. It works great for people:
Suffering from Milder addiction to cocaine

Need more medical supervision

Mandatory for the detox process

Who can not commit to an inpatient or resident detox
Outpatient detox centers work great because you can be with your loved ones during treatment. They can support you throughout the journey. During detox, motivation, and support go a long way.
Also, some people may struggle to transition back to social life after spending time at resident detox centers. Outpatient treatment allows seamless transition. You don't have to give up on your work; the detox process will fit into your life without disturbing your schedules. If you struggle to find your feet with your newly reclaimed sobriety, you need not worry! Outpatient detox in NJ by ChoicePoint has personalized programs for your smooth transition into sobriety.
Outpatient vs. Inpatient Detox
Inpatient Detox
Inpatient detox is also known as residential detox. During this, you are required to stay at the facility. 

Inpatient detox is for people suffering from cocaine addiction. People with moderate cocaine use do not usually require it.

Inpatient detox, although effective, has its fair share of demerits, and the constricting, the isolating environment it provides makes it difficult to pursue a recovery program. 

The long prescription wait and secondary issues like rigid routines make inpatient treatment undesirable for many recovering individuals. 
Outpatient Detox
ChoicePoint offers an outpatient detox program that arms you with the skills how to detox from cocaine. 

An outpatient detox program does not require you to be ever-present during your treatment program.

It provides you the chance to continue with your daily activities.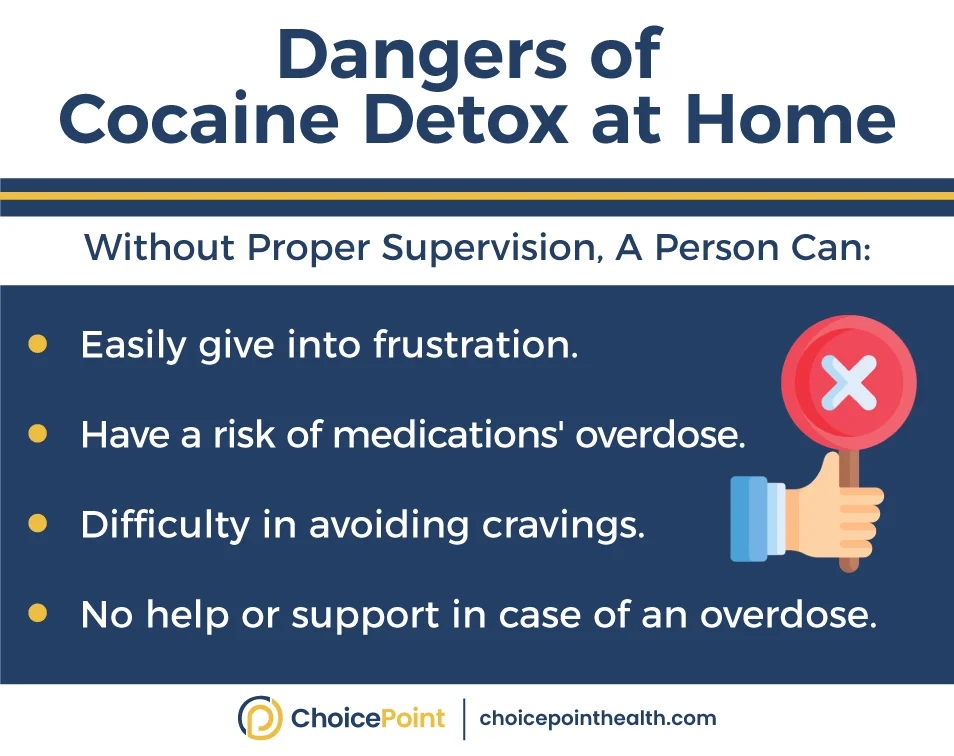 Steps to Improve Your Detox Experience
Although detoxing from home is impractical, a person can take multiple steps individually to alleviate the detox process and make it more comfortable. Such actions and activities are also vital for strengthening willpower and coping with cocaine withdrawal symptoms.
Again these remedies are not the solution to cocaine addiction, but if done on a consistent basis, they not only facilitate the detox process but also considerably speed it up. Some tried and tested remedies on how to detox from cocaine are:
a) Exercise and Yoga 
Yoga and exercise are great ways to relax your body and mind. Also, scientifically speaking, exercise relaxes the mind and stimulates the release of endorphins. Endorphins are chemicals released that relieve stress and pain. Yoga is also a great way to increase the production of dopamine. The same neurotransmitter stimulated by cocaine that we discussed earlier.
You can start by doing any exercise you enjoy and commit to. Some exercises to try out:
Biking

Running

Swimming 

Dancing 

Meditation
b) Assist Cocaine Withdrawal with Nutritious Food
Some withdrawal symptoms of cocaine, such as headaches, fatigue, and tiredness, are caused by nutritional deficiency. Drugs decrease the absorption of nutrients which leads to various deficiencies. 
Some food that can help ease cocaine withdrawal are:
Food rich in vitamin B6 and folic acid to reduce fatigue

Fiber-rich food to help with constipation 

Licorice to reduce post-detox fatigue

Ginger and honey tea for relaxation 

Turmeric for anti-inflammatory properties and strength

Passionflower to relieve insomnia
c) Stay Hydrated 
A common withdrawal symptom of cocaine is diarrhea and vomiting. This leads to the loss of water and electrolytes from the body, which results in dehydration. The importance of hydration during detoxification cannot be stressed enough. Staying hydrated will replenish the loss of electrolytes and help your mind stay focused. It also has been commonly observed that cravings increase when the body is dehydrated. So stay hydrated to stay healthy.
d) Stick to a Schedule
A key to completing the detoxification process is to plan. Make a schedule and stick to it. Plan your day. Include the activities you enjoy. Surround yourself with your loved ones. Monitor your sleep cycle. Getting proper sleep helps the body to heal.
An example of how to plan your day during detoxification:
Step 1: Get a minimum of 8 hours of sleep
Step 2: Plan out activities for leisure time to keep yourself occupied
Step 3: Avoid the triggers at all costs. Avoid parties or toxic environments
Step 4: Plan out your nutritious meals for the day
Step 5: Reward yourself on achieving your goals
Step 6: Create a checklist and hold yourself accountable
So by following a medically assisted detox program and productive and healthy habits, one can overcome cocaine addiction in the nick of time. Mental health is vital for ensuring long-term sobriety. ChoicePoint offers long-term mental health facilities in NJ for helping in addiction aftercare. Protect your mental health now!
Chapter 4: Detox During Pregnancy; How to Detox From Cocaine During Pregnancy
Mistakes are a part of life and, mixed with guilt, can often lead to one giving up on the prospect of a better life. We know you have realized that you made the mistake of using cocaine while pregnant, and now you are worried about your child.
Using drugs of any sort during pregnancy is extremely harmful. But is it the end of the world? No. The start may not have been great, but you can improve the end.
Experts' Opinion on Drug Detox While Pregnant
According to the National Institute on Drug Abuse (NIDA), cocaine has various side effects on the health of the baby and mother. It is associated with the following:
Low birth weight

Premature birth

Miscarriages

Neurological defects 

Neonatal abstinence syndrome
Doctors weigh in on medical detoxification options to combat these side effects. Enough research has been carried out to establish that using medications during pregnancy is safe for both baby and mother.
Looking for how to detox from cocaine safely during pregnancy? At ChoicePoint, we have a dedicated detox program specifically designed for the needs of expecting mothers. We understand that pregnancy can be overwhelming. Our experienced medical staff will take care of you. 
Which Detox Medications Are Safe for Expecting Mothers?
There are a lot of misconceptions about how to detox from cocaine safely, especially regarding the use of medications for detoxification. Some say they are harmful to the baby, while others believe we are just substituting one drug with others. Several authentic scientific pieces of research have established that both buprenorphine and methadone are safe for use during pregnancy.
Buprenorphine has been associated with the following:
Increased patient retention time

Decreased neonatal treatment rate

Lower risk of miscarriage and birth defects
Still not sure about the type of medications you should use during your recovery? Check out the top 5 medications prescribed at the MAT clinic and inform yourself with vital knowledge on how to detox from cocaine.
Is it Safe to Breastfeed During Cocaine Detox?
Yes, according to NCBI, it is safe to breastfeed during detoxification. However, each person is different. It is highly recommended to check with your consultant before making any decision. Breastfeeding has been shown to reduce the chance of NAS (neonatal abstinence syndrome) and the need for morphine treatment in newborns.
Visit our cocaine detox clinic near you in Fair Lawn, NJ, to get your questions answered by ChoicePoint addiction specialists, or call us at 844.445.2563.
Chapter 5: Towards the Conclusion
Tips to Speed up the Detox Process
Your active involvement is very important during a detox program. Once you have decided to go for addiction treatment, it is better to give it your full. Here are some steps patients can take to succeed in a detox treatment program.
a) Be Prepared
If you mentally prepare yourself to commit to detox, the process will become easier for you. Some steps you can take are: 
Talk to consultants about treatment beforehand

Connect with patients who have completed detox

Set goals to help you stay motivated

Talk to your friends and family so they can support you in your recovery 
b) Lean on Your Support System 
Do not shy away from accepting help; there is no shame in asking for help. Your support system will help you get through it. Be it your friends, spouse, or family, communicate with them. They will help you to find the best addiction specialist near you and will be your constant support during the cocaine detoxification process.
c) Do Not Hold Back Any Information
It takes a lot of courage to ask for help. Some hold back information because they think their doctor or therapist will judge them. However, that is never the case. Your doctor and therapist are here to help you. You will only delay the process if you do not tell them how you feel. Even if you experience a relapse, you should talk to your doctor. He will help you recover. One step back does not mean it is over; instead, learn from it. And, this way it wouldn't repeat in future.
d) Follow Your Doctor's Instructions
Your supervisor is a trained professional who completely understands how to detox from cocaine safely. As a patient, you should follow his instructions. Your situation is difficult, and you may feel like no one can understand your struggle and pain. Do not let emotions get the best of you. If anyone understands your situation and wants to see you get better, it is your doctor. Have faith and trust, and see the benefits in your detox journey!!
e) Stay Motivated
Detox is not a one-way road. You might suffer from strong cravings for the drug. This can lead to relapses. However, remember why you opted for treatment in the first place. A full treatment will lead to a happy and productive life. So, don't quit during the uncomfortable time period of recovery. Give it some time, and everything will fall into place.
Are you feeling low on energy and motivation? Need that spark to get you in the right mindset. We have the perfect playlist with some of the best songs from your favorite musicians that can help you recover from addiction.
How Long Does It Take to Feel Better After Detox?
A detox may feel like a long process as withdrawal symptoms of cocaine begin to kick in. The initial stages are the most difficult, but let me assure you if you are fully aware of how to detox from cocaine, it gets better after the first stage. After detoxification, you will feel refreshed, energized, and active. The following timeline will help you determine the duration of detoxification.
You may feel initial withdrawal symptoms such as fatigue, body ache, mood changes, and irritability.
Intense cravings, depression, poor concentration, and anxiety.
The first week is usually the most difficult. During the first week, lethargy, insomnia, and intense drug use may continue. It is very important to stay motivated during the first week.
After The first seven days:
After the first week, the cocaine withdrawal symptoms begin to minimize for people with milder addiction. However, depending on the frequency of use, the duration may differ for you.
Risks Associated with Cocaine Detoxification
When looking for methods to detox from cocaine, it is important to be mindful of the risks associated with cocaine detox. Generally, supervised detox is safe.
Some side effects may include:
Depression

Anxiety

Restlessness

Headache 
If you are on a MAT detox, there might be some mild side effects of medications during detox. These include:
Insomnia

Restlessness

Diarrhea 

Numbness

Insomnia
These side effects are not comparable to the advantages of detox. Supervised detox is safe, so do not let any fears get in the way of recovery. Possible side effects of detox from cocaine can be minimized by getting treatment from ChoicePoint licensed addiction specialists. Want to get the same-day Suboxone prescription? Feel welcome to contact us at 844.445.2563 or fill this online form. 
Finding the Best Cocaine Detox Center Near You?
Finding the best detox center near you is a challenging task. You worry about how to detox from cocaine due to commute expenses, the credibility of the detox center, ethics, and the professionalism of doctors. And these are all right concerns. What if we tell you a medically supervised detox under licensed professionals is just a click away? You don't have to worry about any commute or taking time off from work. The ChoicePoint detox program is just a click away. You can begin detox right away by connecting with medical professionals.
Sign up for a ChoicePoint detox program and see how to detox from cocaine. Benefits of ChoicePoint's cocaine detox include: 
Covered by most insurance

No need to rely on Internet information; consult with a licensed professional

No need to put your social life on hold

Focus on your goals and dreams as we take care of you
ChoicePoint accepts all insurance programs to help you start a cocaine detox without worrying about the cost. Call us at 844.445.2563 to check how much your insurance covers for cocaine detox. 
Final Verdict
Cocaine can ravage you and put you in a catch-22 situation; Unable to quit no matter how much you try. This unfortunate situation can befall anyone. It can be a friend or family member, so one has to be well informed on how to detox from cocaine safely and choose the right treatment option.
ChoicePoint offers all the tools and expertise to structure your detox routine from initial screening to complete aftercare avoiding all kinds of issues like financial constraints so that treatment goes undisturbed. There is always the danger of delay. Do not give in to doubt and confusion. Join ChoicePoint's Detox program and get a headstart on how to detox from cocaine the best way possible. Call us at 844.445.2563 or visit our in-person addiction treatment center in Fair Lawn Bergen County, New Jersey.
Medical Disclaimer:
ChoicePoint aims to improve the quality of life for people struggling with substance use disorder and mental health issues. Our team of licensed medical professionals research, edit and review the content before publishing. However, this information is not intended to be a substitute for professional medical advice, diagnosis, or treatment. For medical advice please consult your physicians or ChoicePoint's qualified staff.