Are you looking for Suboxone doctors near you because your regular or family doctor can not prescribe Suboxone? Suboxone use that is not prescribed and custom-tailored for you by a qualified suboxone doctor can lead to health dangers. To avoid this, the DEA (Drug Enforcement Authority) has laid down strict rules that require all healthcare providers to have special training, a federal license, and a DEA certificate to prescribe Suboxone. 
A traditional way to get a suboxone prescription is through a suboxone clinic, but finding the right suboxone doctor near you who is eligible to prescribe Suboxone can be challenging. 
Is there any hope to get a same-day suboxone prescription? YES! Through ChoicePoint's online medication-assisted addiction treatment programs, patients can effortlessly avail the prescription of Suboxone by contacting us at 844.445.2563.
Use of Suboxone For Addiction Treatment
You might have tried to manage withdrawal symptoms independently, but withdrawal symptoms are difficult to manage without medical supervision. So, before we jump to quick prescription tips, it is important to understand what Suboxone is and who can prescribe it. Suboxone is an opioid antagonist which reverses the opioid effect by preventing opioids from binding with receptors in the brain. Simply put, it lessens the intensity of opioid craving and withdrawal symptoms.
Suboxone® consists of two active ingredients, Buprenorphine and Naloxone®. While naloxone reduces drug dependency, Buprenorphine works effectively to minimize withdrawal symptoms.
Buprenorphine is present in Suboxone, and it acts as:
Long-acting agonist:

It helps patients cope with withdrawal symptoms and opioid-related cravings.

High-affinity agonist:

It acts as a pain-reliever by preventing the activation of pain receptors in the brain 

Partial agonist:

It has a low overdose and dependence risk. 
Though Buprenorphine in Suboxone® is less addictive than other opioids, its misuse can cause addiction. Thus if used as directed by a licensed doctor, Suboxone® is a safe, stable, and result-oriented medication with the unmatched potential to treat opioid dependence. At ChoicePoint, you can get a quick online prescription through our DEA-approved licensed doctors who can prescribe Suboxone® to help you curb Opioid dependence.

3 Simple Tips to Get Suboxone Prescription Near You
The National Institute on Drug Abuse confirms more than 2 million Americans have opioid use disorder, and 40% of the counties in the U.S. do not have any healthcare provider to prescribe Suboxone. Such a vast population's opioid dependence demands the availability of Suboxone- a wonder drug to treat opioid addiction.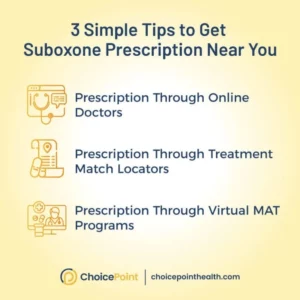 The following tips can help you to get Suboxone on your first visit.
1. Look for Telehealth Treatment Options
Before 2018, federal law-bound drug users visited a physician in-person to get a prescription for withdrawal-coping drugs. 
But now, patients can regain control of their lives from opioids by availing Suboxone prescriptions today through online resources. 
What changes does telehealth bring to addiction treatment? 
Effortless accessibility to Suboxone prescription

No need for an in-patient visit to a physician 

A doctor can examine patients online

Patients can get the treatment in the comfort of their home
It is important to note that withdrawing from opioid agonists has various neurological and psychological effects. So, for sustainable recovery from opioid addiction, therapy is equally important as Suboxone treatment. 
At ChoicePoint, we are helping patients get both Suboxone and the counseling they need to fully recover from opioid addiction in the comfort of their homes through telehealth addiction treatment programs.
2. Prescription Through Treatment Match Locators
Treatment match locators are another way of finding Suboxone doctors near you. Specific organizations also help bridge the gap between treatment providers and opioid users. Patients needing Suboxone can quickly get the prescription by connecting with treatment providers. 
Commonly, here is the step-by-step procedure to match the provider as a suboxone finder:
Step-1: Register yourself as a patient 
Step-2: Enter your medical history, such as patient ID
Step-3: Enter your location
Step-4: Providers will receive an email with your requirements 
Step-5: If it suits their match, providers will send you an email
If you can't find any doctor accepting a new patient, don't worry. Contact ChoicePoint, and we'll arrange Suboxone treatment for you.
3. Utilize ChoicePoint MAT Program for Same-Day Prescription
Did you know that medication-assisted treatment programs significantly reduce withdrawal symptoms and lessen the cravings that help achieve lifelong opioid recovery?
If the matching directory does not work for your location, don't worry about finding suboxone doctors near me, as you can still get a prescription through the ChoicePoint MAT program. 
Our simple procedure consists of the following steps:
Step 1: Schedule an online appointment by filling out this form
Step 2: The healthcare provider will reach out to you at your scheduled time
Step 3: Provide the relevant and correct information to the supportive care team
Step 4: Connect with a doctor to get your prescription
Our MAT program is covered by insurance and well-equipped with all FDA-approved medications. Our licensed doctors prescribe the following medications:
Naltrexone: Vivitrol or ReVia is used to treat opioid and alcohol addiction
Buprenorphine: To treat opioid use disorder
Subutex: To treat chronic pain and opioid addiction
The FDA had given Suboxone, a drug used to treat opioid dependence, the go-ahead. Subutex is a brand name for buprenorphine/naloxone, a combination that reverses opioid effects. ChoicePoint employs Suboxone and other drugs in its medication-assisted treatment (MAT) program. If you're worried about the price, don't be! All insurance plans, including Medicare, Medicaid, and commercial insurance, are accepted at ChoicePoint. You can enroll in our addiction MAT program after your insurance has been verified and our doctor has examined you. If you were searching for "Suboxone doctors near me," our Suboxone doctors can write a Suboxone prescription for you on the same day.
Does Suboxone's Side Effects Compromise Its Effectiveness?
Suboxone is a controlled substance and requires strict dosage monitoring. Indeed, Suboxone's effectiveness outweighs its side effects. Suboxone is reported to increase patient retention rate in rehab programs and lessen overdose and drug-related abuse.
Some of the side effects of Suboxone include:
Breathing problems

Allergic reactions

Dependence chances 
But these side effects occur only if patients misuse it by not taking it as directed by the physician. However, continued and increased patient monitoring can prevent the misuse and side effects of Suboxone.
Why Is Follow-Up Important in Suboxone Treatment?
Suboxone provides a highly effective long-term maintenance treatment for individuals with Opioid Use Disorder (OUD). Many people continue taking Suboxone for years on a maintenance dose. Also, research suggests that longer treatment durations yield greater effectiveness in recovery. Let's explore why follow-up care is vital in maximizing the benefits of Suboxone maintenance treatment:      
a. Relapse Prevention
Follow-up care is crucial in preventing relapse by providing ongoing support and guidance. Regular check-ins and counseling sessions help individuals identify triggers, develop coping mechanisms, and strengthen their resilience against potential setbacks.
b. Continuity of Treatment
The significance of follow-up care is ensuring a continuous and consistent treatment process. By maintaining regular contact with healthcare providers, individuals can receive necessary adjustments to their Suboxone dosage or treatment plan. Thus confirming optimal results and progress.
c. Monitoring Physical Health
Regular follow-up appointments allow healthcare providers to monitor physical well-being. This includes assessing vital signs, addressing potential side effects, and ensuring overall physical health and safety throughout the recovery journey.
d. Monitoring Mental Health
Follow-up care also focuses on monitoring and addressing the mental health aspects of individuals in Suboxone maintenance treatment. It provides a platform to discuss
Challenges

Evaluate progress

Receive the necessary support to maintain emotional well-being.
e. Adapting the Treatment Plan
Treatment plans must be dynamic and adaptable to individual needs. Follow-up care facilitates regular evaluations and adjustments to the Suboxone treatment plan as required. This can involve
Tapering the dosage

 Addressing co-occurring mental health conditions

 Exploring additional therapeutic interventions for comprehensive care.
f. Counseling Support
Effective follow-up care incorporates
Counseling services, 

Offering a safe and confidential space for individuals to address emotional challenges 

Develop coping strategies, 

 Explore underlying factors contributing to OUD
Regular counseling sessions enhance self-awareness, personal growth, and long-term recovery. By emphasizing the importance of follow-up care, individuals undergoing Suboxone maintenance treatment can benefit from relapse prevention, personalized support, and ongoing physical and mental health monitoring. This comprehensive approach maximizes the effectiveness of Suboxone as a long-term solution for OUD. Thus promoting sustained recovery and improved quality of life.
Explore Suboxone Prescription Options with ChoicePoint: Contact our DEA Certified Doctors Today!
Advantages of Long-Term Suboxone Maintenance Treatment
Following is the list of advantages of long-term suboxone treatment;
Stability

Improved quality of life

Reduced craving and withdrawal symptoms

Lower risk of overdose

Enhanced career opportunity

Elevated mood and emotional well being

Boosted self-confidence

Improved interpersonal relationships
Note: Benefits may vary for each individual; consult a healthcare professional to determine the most appropriate treatment plan based on individual needs and circumstances.   
Contact ChoicePoint Now for a Personalized Suboxone Prescription and Begin Your Journey to Recovery! Don't Delay. Take the First Step Today!

Conclusion; Suboxone Doctor Near Me for Same-day Prescription 
As suboxone has high abuse potential, there are strict federal restrictions on who can prescribe Suboxone. Finding suboxone doctors near you who are currently accepting patients may seem a challenging task. 
We have a solution for you. ChoicePoint's supportive care team can help you connect to a licensed doctor within a few minutes. We offer online suboxone prescriptions through telehealth addiction treatment. So, you can get your prescription today by calling us at 844.445.2563.
Medical Disclaimer:
ChoicePoint aims to improve the quality of life for people struggling with substance use disorder and mental health issues. Our team of licensed medical professionals research, edit and review the content before publishing. However, this information is not intended to be a substitute for professional medical advice, diagnosis, or treatment. For medical advice please consult your physicians or ChoicePoint's qualified staff.