Did you know around 14 million Americans had alcohol use disorder (AUD), according to the 2020 National Survey on Drug Use and Health. Alcohol addiction, which is excessive use of alcohol, can cause physical and psychological dependence in the user if it is not treated timely. Now, if you are searching for alcohol rehab near me, it means you can be among the 1 in 5 people who can get drug and alcohol rehab. At ChoicePoint, getting admitted to personalized addiction treatment programs is super easy. To discuss what exactly you need and start your recovery process, call us at 844.445.2563 or visit our state-of-the-art alcohol rehab clinic in Fair Lawn, New Jersey. And opening soon in Montana.
Signs You

Need

Immediate Help
The journey towards an addiction-free life starts when people struggling with substance abuse disorder ask for help. You should ask for help if you observe the following symptoms of alcohol addiction in you or your loved one.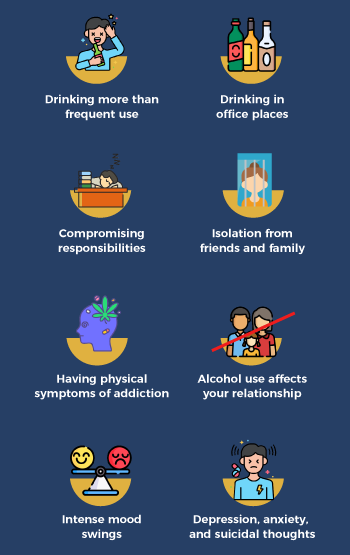 Medical Detox
When a person suddenly stops alcohol use, withdrawal symptoms start appearing that can be life-threatening and can urge relapse too. Most people experience the following intense withdrawal symptoms during the initial 4-5 days after they stop drinking:
Anxiety

Hallucinations

Nausea

Sweating

Rapid heart rate
During this time, medical intervention and supervision of clinical staff are essential. That's why it is said that alcohol detoxification is the first step of recovery because it helps patients cope with cravings and other withdrawal symptoms. 
Now you may ask how long it takes to detox from alcohol; multiple factors determine the duration that may including how long the person was abusing alcohol and their physical health. However, detoxing from alcohol can take a week. At ChoicePoint, we have an experienced team of addiction specialists and medical professionals who work closely with the patient during the detoxification process. Our approach to detoxification will help patients pave the way for lifelong recovery. Feels interested in starting an alcohol addiction-free life?
Outpatient Alcohol Rehab Near Me
Outpatient alcohol rehab can be an ideal option for those who want addiction treatment alongside participating in daily life outside the rehab facility. The program offers flexibility as you can live and stay at your home while continuing the treatment during the daytime. Likewise, depending upon the intensity of your alcohol addiction, you can schedule your meetings with a ChoicePoint alcohol addiction counselor once or multiple times a week. 
Benefits of choosing the ChoicePoint outpatient program include:
You can maintain your employment 

You don't have to be isolated from your family or loved ones

More chances of treatment success and achieving sobriety 

Covered by insurance programs
Types of
Medication

Prescribed in

Alcohol Rehab Centers

Near You
Why Is Therapy Essential for Alcoholism Treatment
To effectively treat alcohol addiction, medications alone are not enough. Understanding the underlying causes of alcohol addiction and addressing those needs is essential for complete recovery. That's why anyone who is searching for alcohol rehab near me should avail ChoicePoint addiction recovery program. ChoicePoint treats both the physical and psychological aspects of addiction.
Our alcohol addiction counselor offers the following behavior changing therapies: 
Want to figure out if you need therapies alongside medications? Feel free to call us at 844.445.2565
Effortless Admission and Scheduling Process
Every second matters when you are looking for alcohol rehab centers near you to get AUD treatment. ChoicePoint, to make addiction treatment accessible for all, have the following straightforward patient scheduling process:
STEP 2:
Addiction Screening
An addiction treatment plan will be prepared after analyzing your needs.

STEP 4:
Get Your Subutex Prescription
You will be connected to a licensed doctor who will prepare a personalized treatment plan.
Frequently Asked Questions
What type of insurance programs can ChoicePoint accept?
What is the duration of alcohol rehab?
It depends upon certain factors that include the level of alcohol dependence, relapse risks, and overall physical and mental health. But it is suggested that you should spend at least three months in rehab to commit to lifelong sobriety.
Should I avail addiction counseling too?
The decision is based on the society of your addiction. In most cases, addressing the hidden causes of addiction through effective counseling is necessary.
Medical Disclaimer:
ChoicePoint aims to improve the quality of life for people struggling with substance use disorder and mental health issues. Our team of licensed medical professionals research, edit and review the content before publishing. However, this information is not intended to be a substitute for professional medical advice, diagnosis, or treatment. For medical advice please consult your physicians or ChoicePoint's qualified staff.